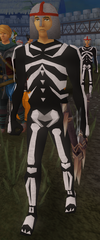 The 2015 Hallowe'en event is the 2015 Hallowe'en event. It was added on 25 October 2015 and will be removed on 2 November 2015. Players can kill Jack-O'-Skelton, a roaming boss that spawn every 10 minutes in one of number of set locations.
Roaming Boss
Edit
Jack-O'-Skelton, a level 666 boss spawns in a one of a various of locations. Players should be cautious as Jack-O'-Skelton as number of abilities that can trick the player into attacking a nearby player, thus skulling them.
When the Jack-O'-Skelton spawns a server-wide announcement appears, for example:
Jack-O'Skelton has just spawned near Seers' Village
Players attempting to defeat him will be rewarded with the Skeleton set, a Jack lantern mask, and all Halloween emotes introduced to RuneScape prior to 2015 upon their first kill.
Additionally, Jack-O'-Skelton is capable of dropping one of the rare Halloween masks. Whenever a player receives a mask drop, a server-wide message will announce it making them a serious pking target.
Halleween themed guard
Edit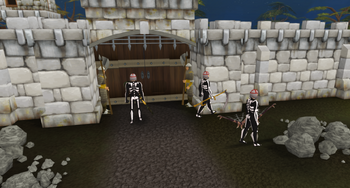 The Guards across Gielinor have been specially dressed for the Halloween event. Some are wielding a Scythe. The scythe is also a rare drop from killing a guard.
NPCs
Rewards

| | |
| --- | --- |
| Costumes | |
| Rares | |
| Emotes | |
| Others | |
Ad blocker interference detected!
Wikia is a free-to-use site that makes money from advertising. We have a modified experience for viewers using ad blockers

Wikia is not accessible if you've made further modifications. Remove the custom ad blocker rule(s) and the page will load as expected.