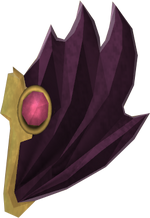 The Batwing shield is a piece magic armour worn in the shield slot. It requires a Defence level of 30 to wear.
Players may also make the shield by using a needle and thread on four batwings, requiring 58 Crafting and granting 200 Crafting experience.
Combat Stats
160x350px
Skill requirements
50 , 50
Class
Slot
Magic
Weapons
Main
Off
Damage
-
-
Accuracy
-
-
Style
-
Attributes
Armour
170
Life points
0
Prayer
0
Strength bonuses

0

0

0

[view] • [talk]
The shield's examine text is a reference to the Batman movie The Dark Knight.
This page was moved from runescape:en:Batwing shield. It's edit history can be viewed at Batwing shield/edithistory
Ad blocker interference detected!
Wikia is a free-to-use site that makes money from advertising. We have a modified experience for viewers using ad blockers

Wikia is not accessible if you've made further modifications. Remove the custom ad blocker rule(s) and the page will load as expected.