Lobster pots are items that can be bought from major fishing shops for 20 coins each and are used to fish lobsters, a common healing food. A lobster pot spawn is found within the Fishing guild. Lobsters heal 800 life points per lobster. It is used in the Dragon Slayer quest as an item the oracle tells players to use for opening the door leading to the chest of Thalzar, which contains one of three map pieces needed to continue. On Karamja, players often sell lobster pots at high prices to players without them, who may have lost or have forgotten them. Lobster pots used to be called lobster cages. A lobster pot can be stored in the Toolbelt.
The Grand Exchange sells lobster pots for 125 coins, indicating that buying lobster pots and selling them on the Grand Exchange can be a moneymaker.
Prior to the skill animation updates on 3 November 2014, the fishing animation with a lobster pot was updated once before in a hidden update.
Dropping monsters
Edit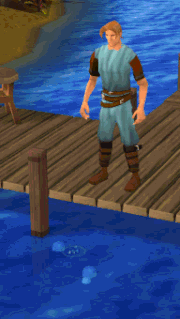 Lobster trap

}}
General
Fishing
Crafting
Farming
es:Lobster Pot
Ad blocker interference detected!
Wikia is a free-to-use site that makes money from advertising. We have a modified experience for viewers using ad blockers

Wikia is not accessible if you've made further modifications. Remove the custom ad blocker rule(s) and the page will load as expected.