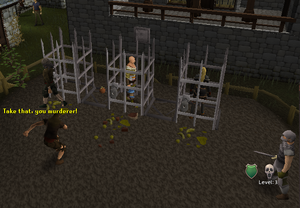 Pillory are cage-like devices used by Guards as a form of punishment for players who have been caught skulled multiple times.
Players who are locked in a pillory box can still be attacked, however those kills do not get counted toward the attacker's KDR.
Locations
Edit
Each threat area has its own Pillory. Players will be sent to the pillory boxes depending on the threat area they are in.
Ad blocker interference detected!
Wikia is a free-to-use site that makes money from advertising. We have a modified experience for viewers using ad blockers

Wikia is not accessible if you've made further modifications. Remove the custom ad blocker rule(s) and the page will load as expected.