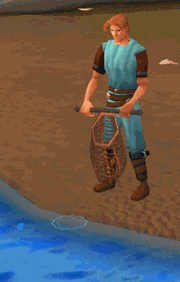 A small fishing net is used to catch fish such as shrimp, anchovies, karambwanji and monkfish. A small fishing net can be permanently stored in the tool belt. Nets can be purchased for 40 coins at:
Players can also buy the net in the Grand Exchange.
These also spawn in the Wilderness near the Bandit Camp.
Up to 5 small fishing nets may be taken from Nyriki's crate for free.
The small fishing net, used along with a rope, can also be used in the Hunter skill to capture swamp lizards, salamanders, penguins (after Hunt for Red Raktuber), and baby squirrels.
Ad blocker interference detected!
Wikia is a free-to-use site that makes money from advertising. We have a modified experience for viewers using ad blockers

Wikia is not accessible if you've made further modifications. Remove the custom ad blocker rule(s) and the page will load as expected.