Wilderness
is part of the
high threat area
of
DarkScape
and is rich in natural resources. The
Grand Exchange
for the high threat area is also located in the Wilderness.
There are no guards in the wilderness
.
Visibility
Edit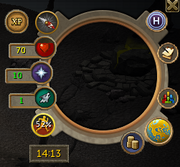 Visibility in the wilderness is reduced greatly. Seeing far is impossible because the wild is a lot more cloudy. Additionally the minimap has been disabled.
Resources
Edit
The wilderness is significantly different to OSR and RS3, high level resources are spread throughout the wilderness. These resources are items like Sharks, Yew trees and Grotworms.
(Reference needed)
The
Ad blocker interference detected!
Wikia is a free-to-use site that makes money from advertising. We have a modified experience for viewers using ad blockers

Wikia is not accessible if you've made further modifications. Remove the custom ad blocker rule(s) and the page will load as expected.